"Above14000ft: Where the Air is Thin and the Fun is Thick!"
At Above14000ft, we warmly welcome you to an extraordinary world of adventure and exploration. With a passion for the outdoors and a deep appreciation for the Indian Himalayas and beyond, our team is dedicated to curating exceptional experiences that connect you with nature and create lifelong memories.
Founded on a strong ethos of environmental stewardship, we are committed to preserving the pristine beauty of the landscapes we explore. Through our adherence to Leave No Trace principles and sustainable travel practices, we strive to minimize our impact and ensure the preservation of these natural wonders for future generations.
Our experienced guides are not only experts in their fields but also passionate storytellers, eager to share their knowledge and insights with you. Their expertise and dedication ensure your safety and well-being throughout your adventure, allowing you to fully immerse yourself in the magic of the outdoors.
We understand that every adventurer is unique, with different interests, preferences, and aspirations. That's why we offer personalized adventures, meticulously designed to cater to your specific needs. Whether you're seeking an exhilarating trek, a thrilling mountaineering experience, or a peaceful birdwatching expedition, we have a diverse range of offerings to suit your desires.
Beyond the adventure itself, we believe in providing a holistic experience that encompasses cultural immersion, authentic encounters, and relaxation. From interacting with local communities to savoring delicious regional cuisine, each element of our itineraries is thoughtfully crafted to create a comprehensive and enriching journey.
Your comfort and satisfaction are our top priorities. From hassle-free planning and logistics management to top-quality equipment and accommodations, we take care of every detail to ensure a seamless and enjoyable experience.
Above all, we value the connections we forge with our adventurers. We strive to create a warm and welcoming environment where friendships are formed, and shared experiences create bonds that last a lifetime.
Join us at Above14000ft and embark on a remarkable adventure that will take you beyond the ordinary. Let us guide you through the wonders of the Indian Himalayas and other captivating destinations, and together, let's create cherished memories that will stay with you forever.
Our Mission: Inspiring Adventure, Fostering Sustainability
At Above14000ft, our mission is clear. We aim to ignite the spirit of adventure and exploration while promoting sustainable travel. By embracing pristine natural landscapes, engaging with diverse cultures, and practicing responsible travel, we ensure that future generations can also experience the wonders of our world. With every journey we undertake, we strive to leave a positive and lasting impact, preserving the delicate balance of our planet's resources and respecting the cultural integrity of local communities. Join us as we embark on transformative adventures that inspire, uplift, and prioritize the sustainability of our environment and cultural heritage.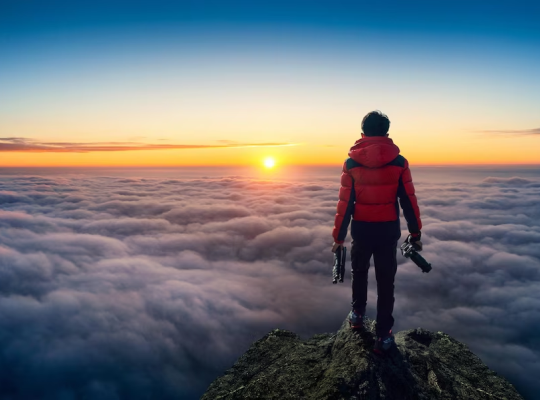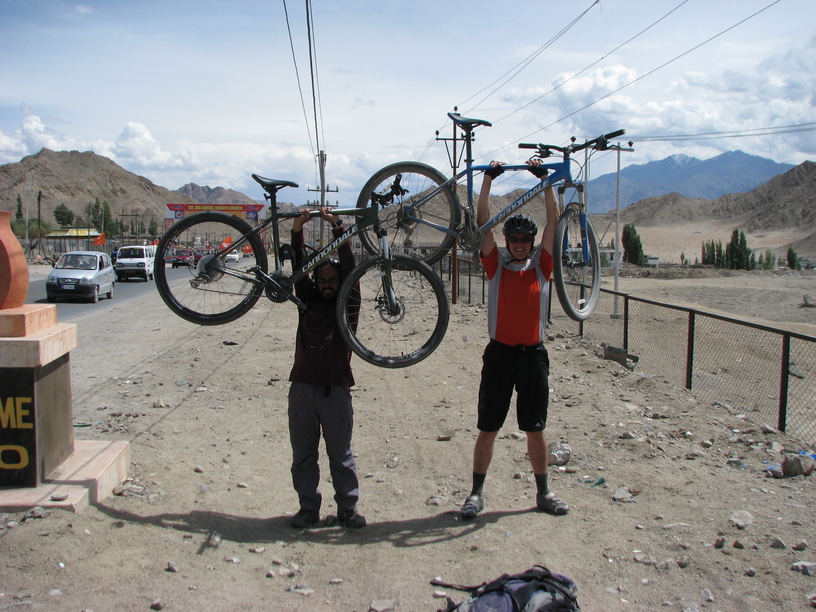 Our Values: Building Meaningful Connections Through Excellence
Quality: Our unwavering commitment to delivering exceptional experiences has fostered long-term relationships with our guests. Through consistently providing high-quality adventures, our business has grown organically through word of mouth.

Respect: We value and honour the opinions, emotions, and security of every individual. By fostering an environment of respect, we create a safe and inclusive space for everyone to thrive.

Challenge: Adventure lies in pushing boundaries and challenging the status quo. We embrace the opportunity to question existing practices, continually seeking innovative ways to enhance the adventure experience.

Growth: Personal and organisational growth are at the core of our mission. We strive to inspire continuous growth, both individually and as a company, fostering an environment that nurtures development and progress.

Fun: While our work is serious, we believe that having fun is a vital ingredient for success. We encourage self-expression, enjoyment, and a lighthearted approach, recognizing that the best progress is made when people truly enjoy what they do.

Excellence: Excellence is the hallmark of everything we do. We are dedicated to upholding the highest standards in every aspect of our operations, ensuring that every adventure we provide is nothing short of exceptional.
Embrace the Spirit of Adventure: Unveiling Extraordinary Journeys
At Above14000ft, adventure travel and a deep longing for exploration are the driving forces behind our captivating journeys. We are wholeheartedly committed to crafting exceptional small group tours that leave a positive footprint on local cultures and environments. Whether you embark on our Himalayan programs or explore our international destinations, we ensure that groups never exceed five to ten participants, fostering intimate connections and fostering a profound appreciation for our remarkable hosts.
Planning your trip is made effortless with our expert guidance. Our firsthand knowledge of the Himalayan Kingdom and other exotic locations enables us to answer virtually any question you may have. We are eager to share our passion for these extraordinary places and assist you in creating an experience that surpasses your expectations.
Unleash your sense of adventure as we embark on journeys that blend thrill and discovery. Our meticulously designed itineraries promise an immersive and exhilarating experience, fostering a deeper understanding between our guests and the diverse cultures they encounter. Let us be your trusted companions in curating unforgettable moments and forging lasting memories.
Contact us today, and let our enthusiasm and expertise guide you on an extraordinary adventure. From the grandeur of the Himalayas to the allure of our international destinations, be prepared to embark on a journey that will ignite your spirit of exploration.
Unleashing Adventures Worldwide: Exploring the Himalayas and Beyond
At Above14000ft, we specialise in organising small group Trekking, Mountaineering, Mountain Biking, Ski Touring, Paragliding, Birding, and Wildlife trips in the Indian Himalayas, specifically Himachal Pradesh, Ladakh, and Uttarakhand. Our base is nestled in the charming mountain town of Manali, Himachal Pradesh.
With over twenty-five years of experience, we have had the privilege of working with adventurers from diverse cultures, backgrounds, and skill levels, hailing from all corners of the globe. Our aim is to cater to everyone's aspirations, whether you're venturing into the outdoors for the first time or you're an accomplished alpinist seeking to conquer unclimbed peaks in the Indian Himalayas. Count on our exceptional logistics planning, seasoned guides, and extensive firsthand knowledge of the Western Himalayas to ensure your adventures are nothing short of extraordinary.
We have a deep passion for the outdoors and revel in the pursuit of thrilling adventures. It brings us great joy to share our world with you through our carefully crafted journeys. But our exploration doesn't stop at the Himalayas alone. We have expanded our horizons to captivating international destinations as well. From the towering peaks of Kyrgyzstan, the wild landscapes of Tanzania, to the cultural riches of Mongolia and beyond, we invite you to join us as we explore the world and create unforgettable memories together.
Our Travel Philosophy: Embrace the Essence of Adventure
At Above14000ft, we approach our adventures holistically, embracing the spirit of adventure while nurturing ecological, cultural, and spiritual awareness. When you join us on our journeys, you can expect a transformative experience that encompasses:
An Immersion in Local People, Culture, and Nature.
Through various modes of transportation, ranging from local buses and shared cabs to private vans, we delve into the heart of local communities. From charming bed-and-breakfast accommodations to family farms and exhilarating camping experiences, every moment is an opportunity for discovery and connection. Get ready to immerse yourself in the richness of local culture, the splendor of nature, and the joy of travel.
Unleash Your Wanderlust: The Freedom to Explore
At Above14000ft, we value the freedom of independent travel while ensuring your security and peace of mind. We respect you as unique individuals, understanding that your tastes and interests are personal. Once we reach our daily destination, you have the freedom to explore the area at your own pace. The day is yours to discover, and we are here to support you as much or as little as you prefer.
When you embark on an adventure with us, you have the flexibility to tailor your experience to your exact desires. Choose to entrust us with all aspects of your journey, allowing you to fully relax and immerse yourself in the holiday with your loved ones. Alternatively, you can select specific components of your adventure that you'd like us to handle, whether it's the trek, paragliding flight, camping, or any other preference. We adapt to your needs, offering as much or as little involvement in your program design as desired.
Our end-to-end services encompass picking you up from the nearest international or domestic airport upon your arrival, organizing comfortable hotel or homestay accommodations in cities and towns, and taking care of all transportation to and from the road head. You can opt to have one of our knowledgeable tour leaders accompany your group throughout the entire trip, or venture independently. We cater to a range of adventure choices and budgets, ensuring a personalized experience tailored to your preferences.
Savour the Adventure: A Culinary Delight
In the remote corners of our trips, we take pride in cooking fresh, delicious meals every day. Our skilled cooks are selected for their ability to prepare sumptuous dishes even in adverse and harsh conditions. While meals in town are not included (we're your guides, not cooks!), we are here to guide you to the best dining spots and satisfy your palate. We believe in giving you the opportunity to experience the essence of solo travel, and for the adventurous souls, local delicacies await.
Food is a highlight on all our adventures, and our talented cooks consistently receive 7-star reviews, even during challenging expeditions with limited resources. Expect five-course menus featuring a variety of cuisines, including Indian, Chinese, Tibetan, Italian, and Continental. Our menu plans are carefully crafted based on years of research and experience leading multi-day expeditions in the mountains, with a focus on high-carbohydrate options to fuel your day on the trail.
We understand dietary restrictions and allergies, and we offer the flexibility to cater to vegan food and plan meals according to your specific needs. For guided mountaineering trips above base camp or self-sustained DIY days without cooks, we provide a mix of dehydrated freeze-dried meals, energy bars and gels, dry trail food, and high-fat options.
As part of our commitment to culinary excellence, we produce our own freeze-dried meals, energy bars, and more in our dedicated factory. We even offer these premium provisions under the Above14000ft Provisions brand, serving alpinists, mountaineers, vol-bivouac pilots, and DIY trekking enthusiasts alike at (https://www.above14000ftprovisions.com).
Gear Excellence for Unforgettable Adventures
When it comes to equipment, we spare no expense in ensuring top-notch quality for all our adventures. We have partnered with renowned brands like Black Diamond, North Face, Mammut, Salewa, Scarpa, Little Cloud, Phi-Air, and Nova to meet our climbing, hiking, ski touring, and paragliding gear needs.
But that's not all – we also take pride in crafting our own gear! Our team at Above14000ft spends an average of 200 days a year in the mountains, engaging in various activities like hiking, climbing, skiing, wildlife spotting, and vol-bivouac flights. With decades of experience, we understand the importance of comfort, utility, longevity, and simplicity in outdoor gear.
For treks and base camps, we provide spacious and luxurious camping tents that allow you to stand up comfortably. In situations where weight and space are critical, we rely on the expertise of Black Diamond, North Face, Salewa, or our own custom-made Above14000ft tents.
Our commitment to innovation and creativity led us to design our own range of gear, including tents, sleeping bags, sleeping pads, and more. Each piece is crafted with meticulous attention to detail, ensuring maximum comfort and durability for your adventures.
Rest assured that on our expeditions, you'll be equipped with the finest gear available, tailored to enhance your outdoor experience and provide peace of mind in any environment.
Transparent and Flexible Pricing for Unforgettable Experiences
At Above14000ft, we believe that adventure should be accessible to all. That's why our pricing structure is designed to accommodate solo travelers as well as groups of any size. Starting from just one person, our adventures offer tiered pricing that decreases as the group size increases.
To maintain the highest quality experience, we limit our group size to a maximum of 8 guests per expedition. This ensures personalized attention, fosters camaraderie, and allows for a deeper connection with the natural surroundings.
Rest assured that our pricing is transparent, offering you the best value for your investment. Whether you're embarking on a solo journey or exploring with a group, our goal is to provide exceptional experiences at competitive prices.
Join us on a thrilling adventure and discover the wonders of the Himalayas and beyond, knowing that our pricing structure is designed to accommodate your needs and make your dream adventure a reality.
Preserving Nature's Beauty: Our Commitment to Leave No Trace
At Above14000ft, we take great pride in our strong environmental commitment. Since 1998, we have wholeheartedly embraced the principles of Leave No Trace outdoor ethics. Our goal is to minimize our impact on the pristine landscapes we traverse and leave behind nothing but footprints and cherished memories.
Throughout our adventures, we prioritize responsible and sustainable practices, ensuring that the natural world remains unspoiled for future generations. From the moment we embark on our journeys, we strive to create a minimal ecological footprint, respecting the delicate balance of nature.
We diligently educate our team and guests about Leave No Trace principles, fostering a deep sense of environmental stewardship. By following these principles, we tread lightly on the Earth, preserving the beauty and integrity of the places we visit.
We invite you to learn more about Leave No Trace and join us in our commitment to sustainable travel. Together, we can ensure that these remarkable landscapes and ecosystems continue to thrive, offering endless opportunities for exploration and enjoyment.
Let us embark on unforgettable adventures, where we embrace the spirit of adventure while preserving the natural wonders that inspire us all.