Rinku (Rajender Sharma) and I have known each other since 2000 when we were both running a mountaineering course at WHMI, Manali. Both of us were (and are) passionate about climbing and mountains. Of course, we hit it off instantly and have worked loads of trips together. Rinku has climbed various peaks all over the Himachal and Uttarakhand – Bara Shigri, CB 13, CB 14, Menthosa, Joanli, Fray Peak, Hanuman Tibba, Deo Tibba to name a few. Rinku is also and very good skier and has represented Himachal in many National Ski Championships. Soft-spoken and quick to laugh, you will always find him humming an old Hindi tune while walking or cooking in camps.
Rinku's wife Sushma is from Manali and a mountaineer herself. Arghan Kangri, Gangotri I, Nun, Menthosa, Deo Tibba and Hanuman Tibba are among her climbs. As part of Above 14000ft, she brings in a lot of local knowledge, especially for treks or climbs around Himachal. Together, Rinku and Sushma form an integral part of Above 14000ft.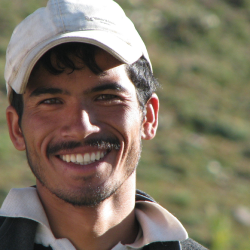 Bhagwan Singh comes from a village called Jhibi in the inner Siraj valley and guides mountaineering trips with us, he has been part of the team since 2005. Weather you are waiting out a storm at 7000m or hanging on an ice wall having Bhagwan around is always comforting. His easy manner and never give up attitude in the most stressful situations is very reassuring.
Devraj grew up in Khanag a village in the outer Siraj valley of Himachal Pradesh. He has been part of the team since 2006. He loves to guide treks and climbs. He is also a good cook and doubles up as a high altitude cook when ever needed above basecamp.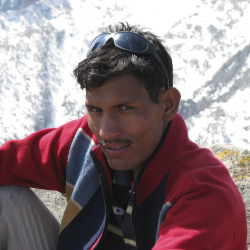 Tikam Dai comes from Nepal but has lived in Manali and climbed mountains for the last 40 years. Before he joined the gang he used to work with the Mountaineering Institute in Manali as a guide. He was also the resident rescue expert at the Institute and is legend of sorts in Manali having worked the rescue posts at Rohtang and Koksar for 15 years and saved thousands of lives.
Pritam joined the above1400ft team in 2008, he belongs to the Lahaul valley of Himachal Pradesh but grew up in Manali. He is a very multi faceted mountain guide with a ton of experience in Himachal and Ladakh. He is also a gizmo freak and is usually found meddling with his fancy cell phone.
Pratap's been part of the team since 2007, He also belongs to the Lahaul valley but grew up in Manali. He has guided many treks and cycling trips with us. However his first love is the surf and loves to kayak big rapids. He manages all our rafting and Paragliding operations.
Ram been part of the family since 2007. He belongs to Nepal but has lived and worked in Manali for the last 20 years. He currently works as our head cook managing all the other cooks on various trails over 3 states.
Chander has been part of the Above14000ft Team since 2009. He is one of our high altitude climbing guides and has a ton of climbing experience built over the last 20 years. Chander is from the village of Jhibi in the Banjar valley.
Tara has been with us since 2010. He is our resident fix it all guys and is also one of our climbing and trekking guides. TC's home is in a village called Gushaini which is on the periphery of the Great Himalayan National Park. His easy personality is always a welcome addition at bacecamp.
Bittu comes form the village of Banjar and has been part of the team since 2012. He is our lead cook on many groups and is responsible for whipping up all the sumptuous meals.
Janga has been working with above14000ft from 2006. He is from Nepal but has lived in Manali all his life. He is an amazing cook. He also loves watching acton movies.