Above14000ft And My Story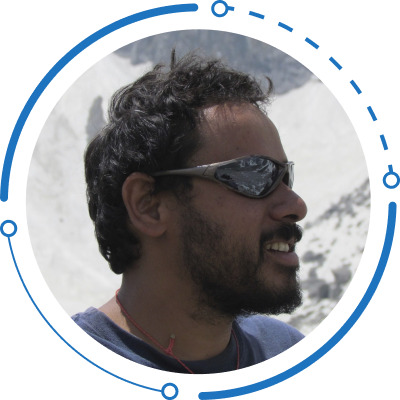 Over the years many people who have travelled with us have often wanted to know what my story was and how Above14000ft came to be. I feel anyone who goes out into the wild to pursue adventure has stories to share. Here is mine…
My name is Kaushal Desai; I am the owner and founder of Above14000ft. In the mid '90s, still in my early 20s and fresh from a mountaineering course, I wanted to explore the Himalayas, climb more and pursue more adventures. So, I decided to quit my day job at a corporate telecom firm and visit a friend in Zanskar.
Back then, Zanskar was a remote, exotic land, deep in the Himalayas, that not only had big mountains and rugged landscapes, but also had a lot of cultural and spiritual history. Lacking extensive mountaineering experience, I tried to learn the ways of the land by travelling and living with local Zanskari horsemen and nomads. Gradually, as I got more familiar with the ways of the mountains, I was able to put my limited resources, knowledge and gear to climb easy 5000 and 6000m peaks. In the early years, I failed a lot more than I succeeded.
My bible back then was the book 'Mountaineering Freedom of the Hills', my gear stash came from army surplus stores in Leh and Kargil. I often found inspiration in the writings of Khalil Gibran, Henry David Thoreau, Mark Twain, Leo Tolstoy, Walter Bonnati, Gaston Rebuffat, Eric Shipton, Bill Tilman, Herman Bhul, Reinhold Messner, Jerzy Kukuczka, Fred Becky, Youn Chouinard, Tom Frost etc…
Being ingenious and resourceful were skills I was always good at and I improvised a lot. I spent my early years doing many hikes and climbs around Zanskar, KIshtwar and Manali. Slowly in a couple of years as I got better I also started working with trekking and climbing groups that came into the Zanskar valley.
Climbing groups were always my favourite as they allowed me to meet and spend time with climbers from different countries. Some, seeing my enthusiasm, allowed me to go on climbs with them. Interacting and climbing with these more experienced mountaineers gave me more insight and learning into the world of mountaineering. Slowly, with a lot of practice, my skills got better, and my confidence grew, until eventually, I started experimenting with harder climbs. I would, sometimes, climb with a few local friends and at others, did solo forays.
I often worked all summer, while autumn and early spring were reserved for my personal climbs. Around this time, I was able to put up some new climbs on peaks around the Zanskar, Kishtwar, Miyar, Manali and the East Karakoram.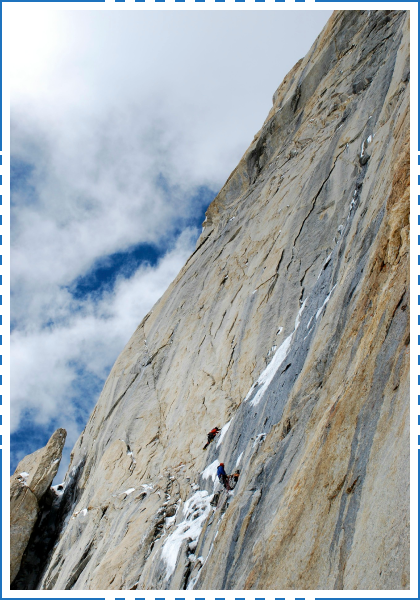 Then around 1999, a friend invited me to work at the mountaineering institute in Manali to teach their climbing courses and to help set-up their web and internet systems. It was time for a change and I moved to Manali. That winter, I also picked up skiing as I did a few courses. In 2001, I sporadically started working as a Liaison Officer with the Indian Mountaineering Foundation, which turned out be a good break. I got to meet and work with climbers from all over the world, like Kei Tanaguchi, Thomas and Alex Huber, and Fred Becky.
I had always been curious, liked to extend help and could make friends easily. When anyone in the climbing community reached out, I helped wherever I could – organising logistics, load ferrying etc. This often garnered me an invitation to join their teams on the climbs. In this way, I kept learning and absorbing as much as I could from all kinds of climbers, and I kept getting good at various aspects of technical climbing. Looking back, these were some amazing and fun times!
During this time, my reputation grew, not just as a mountaineer, but also as someone who was intricately familiar with the Indian Himalayas. Climbing parties arriving in India started connecting with me, largely because I was a climber and could relate to their mindsets and needs – which was appreciated. They reached out for information and help with permit bookings, organising transport to and from various road heads, help with organising base camp logistics, kitchen staff, horses, porters etc for climbs across the Indian Himalayas and I was able to deliver.
My intimate knowledge about remote valleys like the Miyar and Kishtwar also helped open up these areas to early explorations by climbers like Massimo Marcheggiani and Mick Fowler. Soon, the demand for my services grew and before long, I was in business. Eventually, in 2003, I started Above14000ft. The idea then was to work with mountaineering expeditions and help them with organising their adventures across the Indian Himalayas.
In my free time, I continued to pursue my personal climbing goals, got better at skiing and started to enjoy winter ski touring. In the summer of 2006, a friend introduced me to paragliding and gave me my first tandem joy ride. I loved my first flight and soon started my flying lessons. Paragliding opened up a whole new world for me and flying for me got pretty serious, pretty quickly.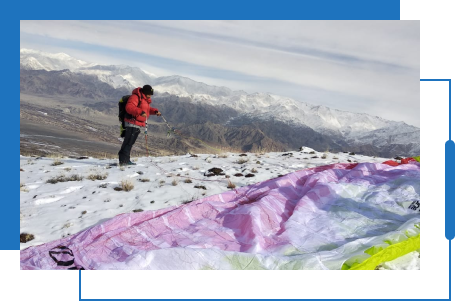 In the Summer of 2006 I met a friend who introduced me to paragliding and gave me my first tandem joy ride. I loved my first flight so much that I soon started to learn how to fly. Paragliding opened up a whole new world for me and I soon got quite serious with my flying.
In the meantime, Above14000ft was getting bigger and I added other activities – trekking, cycling, ski tours and mountaineering courses. As the business grew, my team of guides, cooks, camp helpers, porters, horsemen and 4X4 drivers also grew. By 2010, I was already creating and curating a fusion of experiences by mixing up trekking, climbing, ski touring and paragliding across the Indian Himalayas in Himachal, Zanskar, Ladakh, Uttarakhand and Sikkim.
Looking back over the nearly 30 years I have managed to have some awesome adventures and create an amazing way of life. I have also made friends all over the world. I am happy that I have stayed true to my roots and continue to enjoy the outdoor though hiking, climbing, skiing and paragliding. I still love to accompany groups into the field and to help people discover the Himalayas and other wild, unexplored places all over the world.